Fine Dining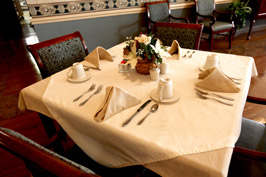 You are sure to enjoy the dining experience at Maplewood of Marshall. We are proud of our nutritious and appetizing meals serviced in a fine dining atmosphere. Our dining philosophy enables you to experience the service and selections you would expect in a nice restaurant.
We offer a creative menu, a dedicated staff, and meals served in a beautifully decorated dining room with tablecloths and centerpieces. You will receive a variety of menu choices and visitors are always welcome to join you. If you prefer to dine in your room, we will be happy to provide you with in-room dining.
Our fine dining program was designed as a means to exceed your expectations and create a positive dining experience for all of our guests.
Seasonal Menus
We offer delicious seasonal menus, which feature cold, fresh fruits and salads in the summer and hot, hearty stews in the winter. All of our meals are home-cooked. We give special attention to individualized food preferences and dietary needs to ensure your satisfaction. Be sure to view our sample menu provided at the bottom of this page.
Special Celebrations
Holiday and special event planning is a specialty at Maplewood of Marshall. You will enjoy fun, festively themed meals throughout the year. We encourage you to invite your family and friends to dine with you to experience music, special guests, and sometimes a celebration.
Menu Sample
Below is just a sample of what you can expect with your dining experience throughout the week at Maplewood of Marshall:
Breakfast Main Entrees
Quiche Lorraine
Eggs Florentine Casserole
Breakfast Casserole
Sausage Gravy and Biscuits
Pancakes
Scrambled Eggs
Lunch Main Entrees
London Broil
North Atlantic Salmon Cakes
Chicken Fricassee with Dumplings
Savory Rock Cornish Hens
Steak Diane
New England Pot Roast
Dinner Main Entrees
Thai Beef Stir Fry
California Grilled Chicken and Berry Salad
Irish American Boiled Dinner
Shanagan Sweet and Sour Pork
All American Beef Stew
Chicken Divan Casserole
Our focus is to be your partner in caring. Excellent care includes an appetizing and nutritious meal served in a comfortable dining atmosphere.